Our process
-
NIN IN 3 EASY STEPS
After enrolment, NIMC issues a National Identification Number (NIN), which is a unique number that identifies an individual for life. It's used to match a person's biometric data and other information in the National Identity Database (NIDB). NIN is a number that is used to link all of a person's information in Nigeria's national database and to verify their identification. All citizens and legal residents in Nigeria, from age zero (birth) and above are eligible to enroll for their NIN.
Pre-enrollment/Appointment booking
The pre-enrollment/appointment booking process is an important step in the process of enrolling for a NIN . It helps to ensure that the NIMC can efficiently process the applicants application and issue them with a NIN as quickly as possible.
The National Identity Management Commission (NIMC) is responsible for issuing National Identification Numbers (NINs) to all citizens and legal residents of Nigeria. The NIN is a unique 11-digit number that is used to identify individuals in Nigeria.
Once the applicant has completed the pre-enrollment process, they will receive an appointment confirmation slip. The applicant must bring this confirmation slip to their appointment. They must also bring a valid identification document to their appointment.
Included in this phase
Data verification
Appointment scheduling
Confirmation
Valid ID
Locate a Center
If you're in need of National Identification Number (NIN) verification or any other NIN-related services, finding a designated Ficoven NIN center is essential. The National Identification Number (NIN) is a crucial identification code issued by the National Identity Management Commission (NIMC) in Nigeria.
Locating a center for NIN verification or NIN-related services is a straightforward process. First, you can visit our official website or contact any of our customer service for a comprehensive list of authorized centers in your region. These centers are typically found in urban areas, government offices, and sometimes in private sector facilities that have been authorized to provide these services.
NIN verification is crucial in various aspects of daily life, including banking, government services, and telecommunications. It ensures the accuracy and integrity of data, minimizes identity fraud, and simplifies transactions by providing a unique identifier for each individual.
Recieve your NIN!
Receiving your National Identification Number (NIN) is a crucial step in the process of establishing your identity in Nigeria. The NIN serves as a unique identifier and is used for various official transactions and services, including but not limited to banking, government benefits, and telecommunications.
Obtaining your NIN involves a straightforward yet essential process facilitated by the National Identity Management Commission (NIMC). It ensures that you are officially recognized and can access the full spectrum of benefits associated with this identification code.
Included in this phase
Enrollment. This initial step involves visiting Ficoven enrollment centers close to you. Here, your biometric data, such as fingerprints and facial recognition, will be captured. You'll also need to provide necessary identification documents.

Data Verification. After enrolling, the data you've provided will undergo verification to ensure its accuracy and consistency. This verification process helps in maintaining the integrity of the NIN database.

Issuance of NIN. Upon successful enrollment and verification, you will be issued your unique NIN. This is a critical moment as you'll receive the official identification code that will be linked to your personal information.
Prerequisites
-
Requirements for Pre-enrollment
We'll use your Nigerian International Passport, if you have one, to authenticate your identity at the Enrolment Center. Other supplementary papers that can be accepted are listed below:
Nigerian International Passport. Your Nigerian International Passport serves as a primary document for identity authentication during pre-enrollment.

Bank Verification Number (BVN). If you possess a Bank Verification Number (BVN), it can be used alongside your Nigerian International Passport to further authenticate your identity.

Old Nigerian National ID Card. An old Nigerian National ID Card can be presented as supplementary proof of identity during pre-enrollment. This card indicates your previous enrollment and can help verify your identity.

Nigerian Voters Card. Your Nigerian Voters Card is another valid supplementary document that can support your identity verification. It is a government-issued card that confirms your eligibility to vote.

Nigerian Birth Certificate. Providing your Nigerian Birth Certificate as a supplementary document is an effective way to establish your identity. This official document contains important information about your birth and parentage.

Nigerian Government Staff ID Card. If you are a government employee, your official Nigerian Government Staff ID Card can be used for identity verification. This card demonstrates your affiliation with the government.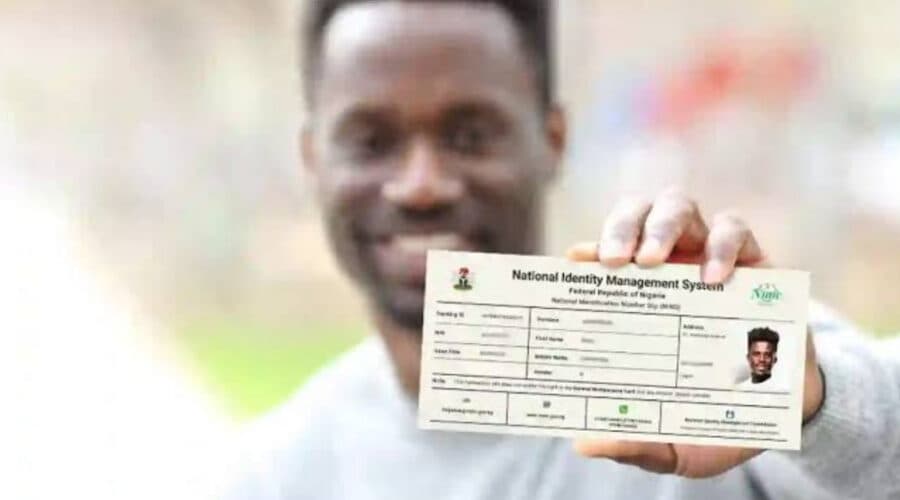 Benefits of NIN
Your National Identification Number (NIN) is used to tie together all records about you – demographic data, fingerprints, head-to-shoulder facial picture, other biometric data and digital signature – in the National Identity Database making it relatively easy to confirm and verify your identity when you engage in travels and transactions.
International Passport issuance & renewal
Bank account opening in Nigeria
Business registration at CAC in Nigeria
Tax filling and documentation in Nigeria
Affirm identity anytime, anywhere, in the world
Feel free to get in touch with us
Our offices
Lagos
No 1 Nwadiolu Street
Aboru, Iyana Ipaja, Lagos, Nigeria.
London
71/73 Unit 18 Nathan Way
SE28 0BQ United Kingdom